Spring 1999
Unlocked right rear wheel The wheel was locked up.
Cleaned the engine with Gunk ® Engine Degreaser.
Started the engine. The Engine started on the first few attempts, pretty good for a car that sat for 4 years.
Drained the gas tank. The gas was bad having sit for 4 years.
Wet-Sanded the bumpers with fine grit sand paper and soapy water, then painted them with Bumper Black ®.
Bought a battery
Bought new spark plugs
Put the car on blocks. Took off the old front tyres. Sandblasted, primed, and painted the wheels with silver gloss paint. See before and after pictures
Rebuilt front brake calipers installed new brake pads and new hoses.
Installed slightly used Ignition Switch
Summer 1999
Tore off old top and sandblasted the top frame. The top was dry-rotted. (Click to view picture)
Took out interior components Seats, carpets, knee pads, tunnel cover (transmission cover), etc...
Degreased transmission.
Rebuilt clutch master cylinder.
Rebuilt clutch slave cylinder
Wirebrushed and painted floor.
Cleaned and painted trunk.
Installed new starter solenoid.
Fall 1999
Rebuilt rear brakes- installed new brake pads, new cylinders, and new hoses.
Took out radiator, sandblasted and painted its support frame.
Had radiator fixed
Winter 2000
Painted then reinstalled Radiator with new hoses, clamps, and antifreeze
Removed rusted out battery box
Bought and installed new battery box from The Little British Car Company (pictures to come)
Bought and installed new brakelight switch from The Little British Car Company
Put insulation in the transmission cover
Installed Transmission tunnel cover from The Roadster Factory It is a new Plastic version of the cover. The kit included all necessary seals and mounting hardware.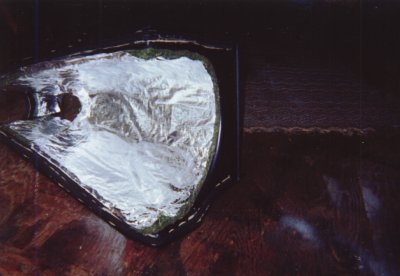 Installed new fan belt
Bought and installed new Fuel pump from TRF
Installed new fuel hoses and heater hose.
Spring 2000
Removed engine and transmission to have engine rebuilt.
Brought engine to a shop to have it rebuilt.
Summer 2000
Cleaned and painted frame while the engine is out.
Freed frozen heater controls
Inspected gears and bearings in transmission then fitted new gaskets.
Fall 2000
Recovered seats with new seat cover kit and foams - Beige houndstooth as original
Winter 2001
New gaskets for water pump, new thermostat, new radiator cap
Not much done during winter between school and cold weather.
Spring 2001
Installed rebuilt Engine and Transmission
Bought new beige door panels
Summer 2001
Installed recovered seats, Installed new door panels
Installed new fuel tank sender unit
Installed new seat belts
Installed new sun visors
Basically put interior of car back together.
New exhaust installed by Midas, I bought the muffler myself and had them install it.
Car passes safety inspection.
Speedometer cable breaks, installed new one.
---
Next things to do
Buy new convertible top.
Differential is making noise when car is coasting, going to fix / replace.

Prepare trunk for luggage rack (I have an OE luggage rack, similar to the one pictured here )
$$ Bodywork, Remove dents etc...
$$ Eventually....Have the car painted
---
[Home ] [Pictures ] [More pictures ] [Car Info ] [Work Done] [Triumph Links ] [Spitfire Ads ] [E-mail ]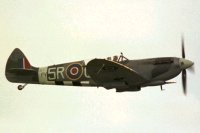 (9/06/99)